KARHUNKIERROS GUIDED HIKES
Experience the most popular hiking trail in Finland, Karhunkierros with us! We offer variety of hikes on Karhunkierros, so you will find one for you!
Karhunkierros, GUIDED HIKES
The most popular hiking trail in Finland, the legendary Karhunkierros, takes you to the best places in Oulanka National Park. Karhunkierros offers hikers plenty of breathtaking views and sweaty kilometers. This route is a must to hike at least once in a lifetime! Experience these enchanting nature with us on our Karhunkierros hikes!
It's easy to join these hikes – you just need to bring your own personal belongings as well as good hiking shoes – we provide you with all the necessary gear for the hike. You will also get a map of Karhunkierros as a reminder of this unforgettable experience!
Participating in these hikes does not require previous hiking experience. Normal good basic fit is sufficient. The hike is sized so that the day trips are approx. 15 to 20 kilometers and include enough breaks to keep us going.
For all hikes, you will receive a comprehensive preparation package in advance. This includes a more detailed description of the route, tips for preparing for the hike, and a list of mandatory gear you should take with you.
Please note that all hikes are available for private groups as well and we can customize to content based on your wishes!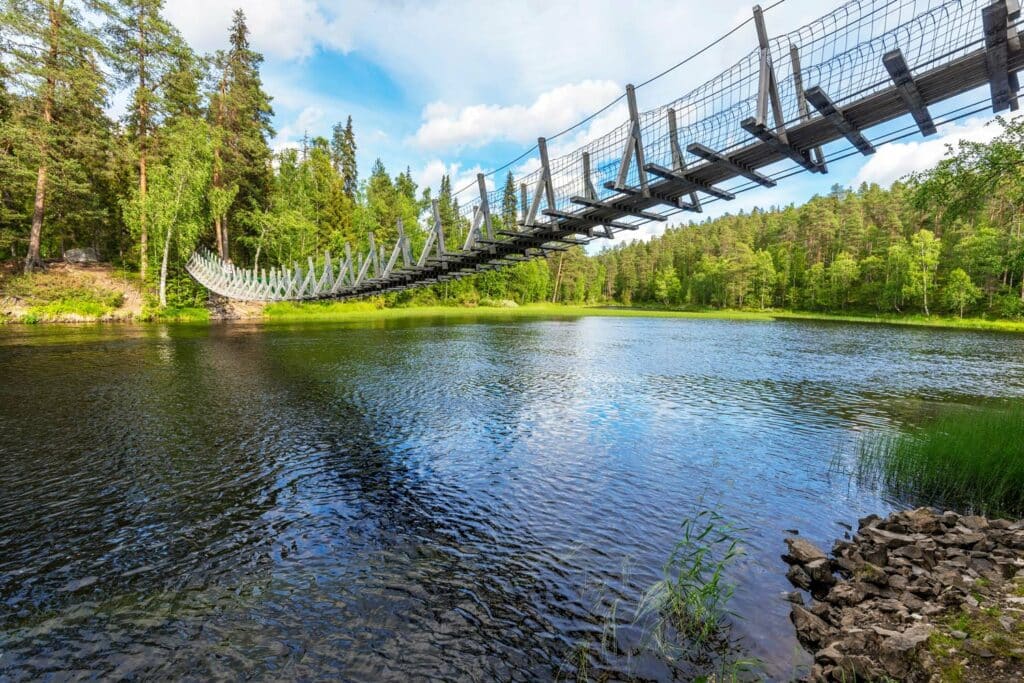 Karhunkierros
ENTIRE route

This hike takes you through the entire Karhunkierros hiking trail in all its beauty. You will experience all the spectacular views and enchant the beautiful scenery. You cross the rapids along the suspension bridges, take a look from the high edge of the canyon to the Oulanka River and so on.
KARHUNKIERROS
SHORT ROUTE
On this hike, you will experience the best views and scenery of the Karhunkierros in a compact package.
Karhunkierros
ENTIRE ROUTE – EXPRESS

Experience the entire Karhunkierros attractions in three days
The requirement is a good hiking condition and experience, so that you can walk approx. 25-30 kilometers a day without possible problems with your legs.
To make the hike easier, we do this with light backpacks and spend the night in ready-made accommodation.
Do you dare to accept the challenge and go and experience the sights of Karhunkierros efficiently during three days.
CONTACT US!
Do you have any questions? If yes, please fill in the form and we will get back to you as soon as possible. You can also send us an email to info@oulangantaika.fi or WhatsApp us in +358405900001.