GUIDED HIKES
Experience the most enchanting hiking trails in Finland with us! We offer a wide variety of guided hikes in Oulanka National Park as well as in surrounding regions.
GUIDED HIKES
Experience enchanting nature wonders and breathtaking beauty on our guided hikes in Oulanka and Salla national parks. We do also offer few guided hikes in north Lapland as well.
It's easy to join these hikes – you just need to bring your own personal belongings as well as good hiking shoes – we provide you with all the necessary gear for the hike. You will also get a map of hiking route as a souvenir of this unforgettable experience!
Participating in these hikes does not require previous hiking experience. Normal good basic fit is sufficient. The hike is sized so that the day trips are approx. 15 to 20 kilometers and include enough breaks to keep us going.
For all hikes, you will receive a comprehensive preparation package in advance. This includes a more detailed description of the route, tips for preparing for the hike, and a list of mandatory gear you should take with you.
Note that we organize also few hikes that combines both canoeing and hiking in the wilderness (outside of marked routes). First day will be canoeing and following days are for hiking,
Guided hike is a great start for your own enchanting nature adventures.

Please note that all hikes are available for private groups as well and we can customize to content based on your wishes!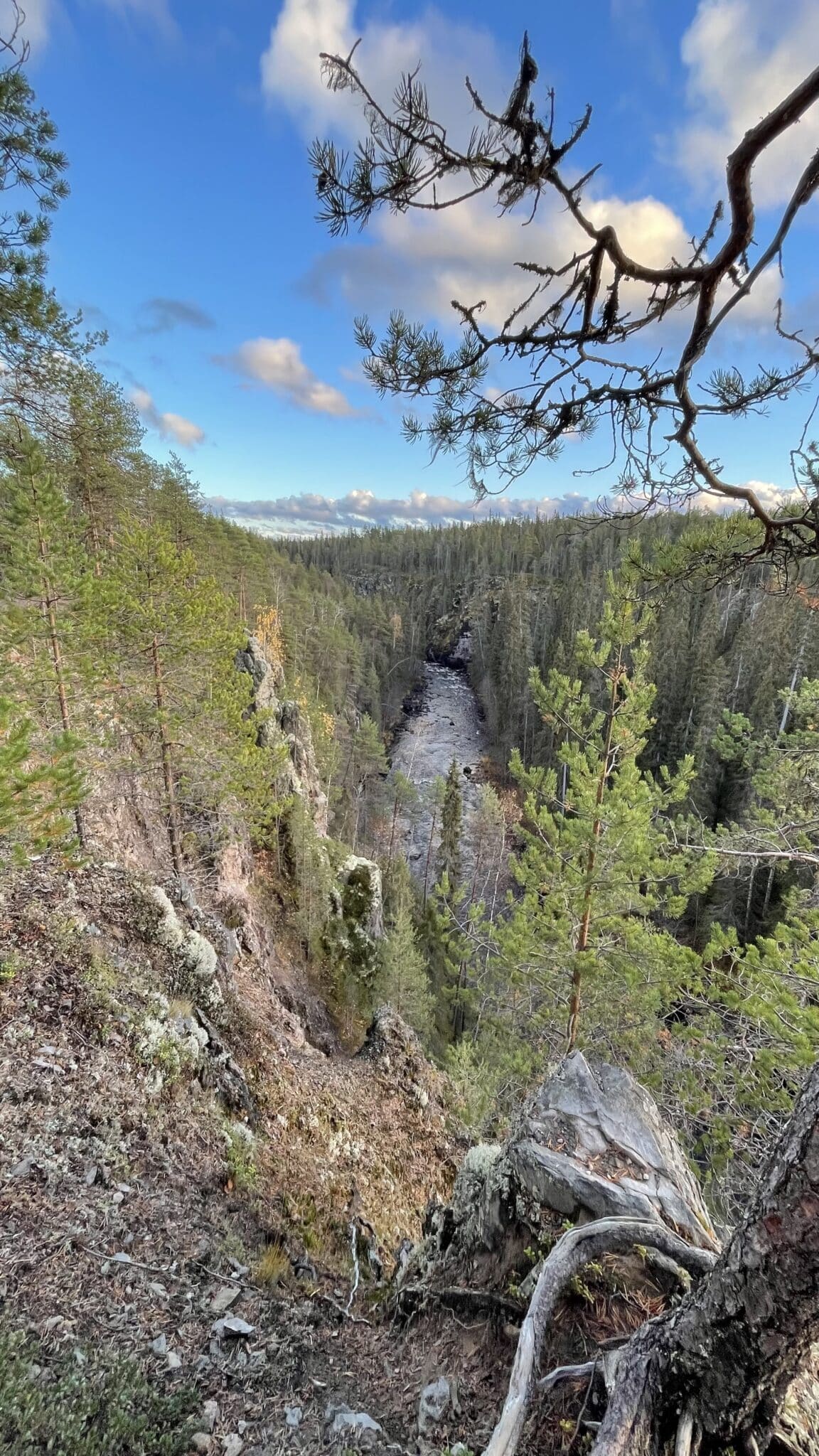 KARHUNKIERROS
KARHUNKIERROS GUIDED HIKES
The most popular hiking trail in Finland, the legendary Karhunkierros, takes you to the best places in Oulanka National Park. Karhunkierros offers hikers plenty of breathtaking views and sweaty kilometers. This route is a must to hike at least once in a lifetime! Experience these enchanting nature with us on our Karhunkierros hikes!.
We organize a variety of different Karhunkierros guided hikes – so you can find suitable hike, longer or short. All hikes will take you to the unique and magical nature in Oulanka National Park.
Salla AND OULANKA NATIONAL PARKS
SALLA – HAUTAJÄRVI – RUKA
This guided hike takes to the most beautiful places in Salla National Park as well as on the most famous hiking route – Karhunkierros – in Finland.
We start this hike from Salla Ski resort and hike through the Salla National Park to UKK route. We will UKK route to Hautajärvi where we switch to Karhunkierros hiking trail.
This is our longest hike – 7 days (6 nights) so you will be enjoying full week of enchanting nature wonders.
HIKING, CANOEING AND EFATBIKING
OULANKA ADVENTURE
The Oulanka Adventure combines all the best ways to explore nature! Hike, canoe and bike – one could call this as Oulanka Triathlon.

Duration of this adventure is 3 days (2 nights). Length of the route is about 90 kilometers.. We will hike, canoe and bike through the Oulanka National Park all the way to Ruka.

This is our new experience for summer season 2023!
AUTUMN COLOR HIKE
HETTA – PALLAS
Hetta – Pallas hiking route offers breathtaking beauty throughout the year but especially on the autumn color time, when the landscape is shining in red and yellow colors.

This hike duration is 3 days (3 nights), but we will meet us in previous evening and the night before hike is included in the hike.
CANOEING AND HIKING
MATARANNIEMI – OULANKA RIVER – JUUMA
Our combined canoeing and hiking experience brings you the different way of exploring gems of Oulanka National Park. You will experience the most beatiful canoeing in route in Europe as well as hiking on the wilderness in Oulanka National Park.

The duration of the hike is 3 days (2 nights). First day is for canoeing and the next two days for hiking through the forests and hills in Oulanka.

This is our new experience for summer season 2023!